Issue 4: October 2023
Welcome to the fourth edition of the newsletter for the Rebate Adolescent Health (RAd Health) trial.
If you have missed the previous editions, click here.
We are excited to update you on the latest developments! Special thanks to the 46 enrolled practices, including the practice managers for organising onboarding, and the GPs and nurses who have completed the surveys and online induction training. We appreciate your hard work, enthusiasm, and commitment to improving young people's health outcomes.
What is RAd Health?
For those new to the trial, RAd Health is a randomised control trial that aims to determine whether a Medicare rebate payment for an annual young person's health assessment (similar to that available for other age-based health assessments such as the 75+ assessment) is effective at increasing the detection and management of risk behaviours and health conditions among 14-24 year-olds. If we find that this rebate improves health outcomes, this will provide us with the necessary evidence to advocate to include a rebate payment for these assessments in the Medicare Benefits Schedule (MBS). To find out more about randomisation, click here.
New resource alert!
We have made some updates to the RAd Health Assessment template! The changes were made in response to feedback from GPs and clinics. We have streamlined the template and have minimised the formatting, which we know was causing some issues.Your practice manager should have received instructions on how to upload the new template to your EMR, if this is not the case let us know at: rad-health@unimelb.edu.au .
What's happening?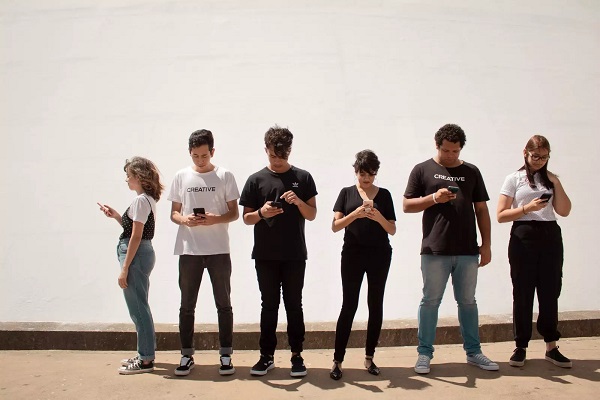 Image source: www.unsplash.com
Recruiting young people: about to start!

We will be collecting data from young people (aged 14-24 years) attending practices participating in the RAd Health trial. Young people will be recruited from intervention and control clinics and will be asked to complete surveys and/or interviews.
Recruitment will soon commence in practices that signed up to RAd Health more than 6 months ago. We will be in touch with further information about this process.
Recruiting practices: almost complete!

We have almost completed recruitment for the trial in partnership with VicREN, and have 46 active practices.
Quick reminder about the requirements:
Practices must see a minimum of 600 young people (aged 14-24 years) annually

Practices must use either Best Practice or Medical Director software

At least two GPs at the practice must consent to participate and complete the required surveys and training prior to randomisation
For more information, contact VicREN at  VicRENRes-Enquiries@unimelb.edu.au
Publications
The protocol for the RAd Health trial has now been published in BMJ Open. Click the image below to read the full article: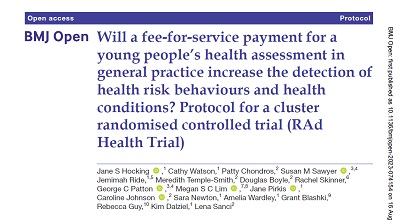 Other publications: Considerations for conducting a young person's health assessment in the general practice setting: Insights from key informants in Victoria, in the April 2023 issue of the Australian Journal of General Practice available here.
Resource Highlight
Do you love a podcast? Us too! The Maze Phase podcast, hosted by Dr Bianca Forrester (GP and academic) is for primary health professionals working with teens. Take a listen on our website: https://www.radhealth.org.au/gps/gp-induction-resources/mental-health/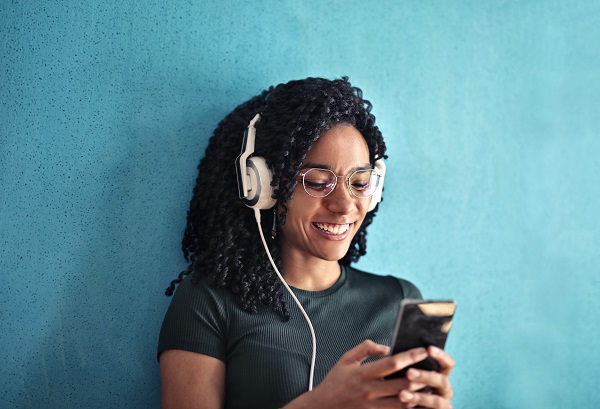 Image source: www.pexels.com.
Reminder regarding Doctors in Secondary Schools
We are very excited that several of the RAd Health practices have GPs who also work in the Doctors in Secondary Schools program, as they bring considerable experience and expertise to their consultations. However, we do remind these GPs that if their practices are allocated to the intervention arm, they can only claim the rebate for young people's health assessments conducted at the GP practice (not in the schools). Feel free to reach out if you need any more information about this.

CPD activities related to RAd Health Trial
Remember, GPs and nurses who complete certain RAd Health activities such as training / induction can record CPD hours. GPs who choose to pursue hours must log earned hours in myCPD Home. Check out our website for suggested activities related to participating in the RAd Health trial that may further count towards your required hours. RAd Health is unable to offer accredited CPD activities/hours.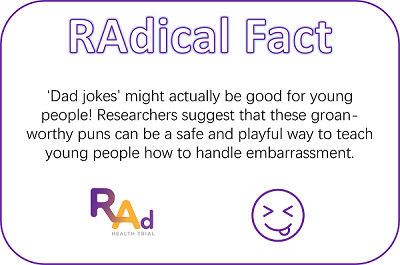 Check out our Website
For the latest news and to access your induction training and other information related to the RAd health trial check out our website by following this link radhealth.org.au or scanning the QR code below.
Feedback?
We'd love to hear from you. Email us at rad-health@unimelb.edu.au